Updates and news GLOBAL COUPLE PHOTO CONTEST EVENT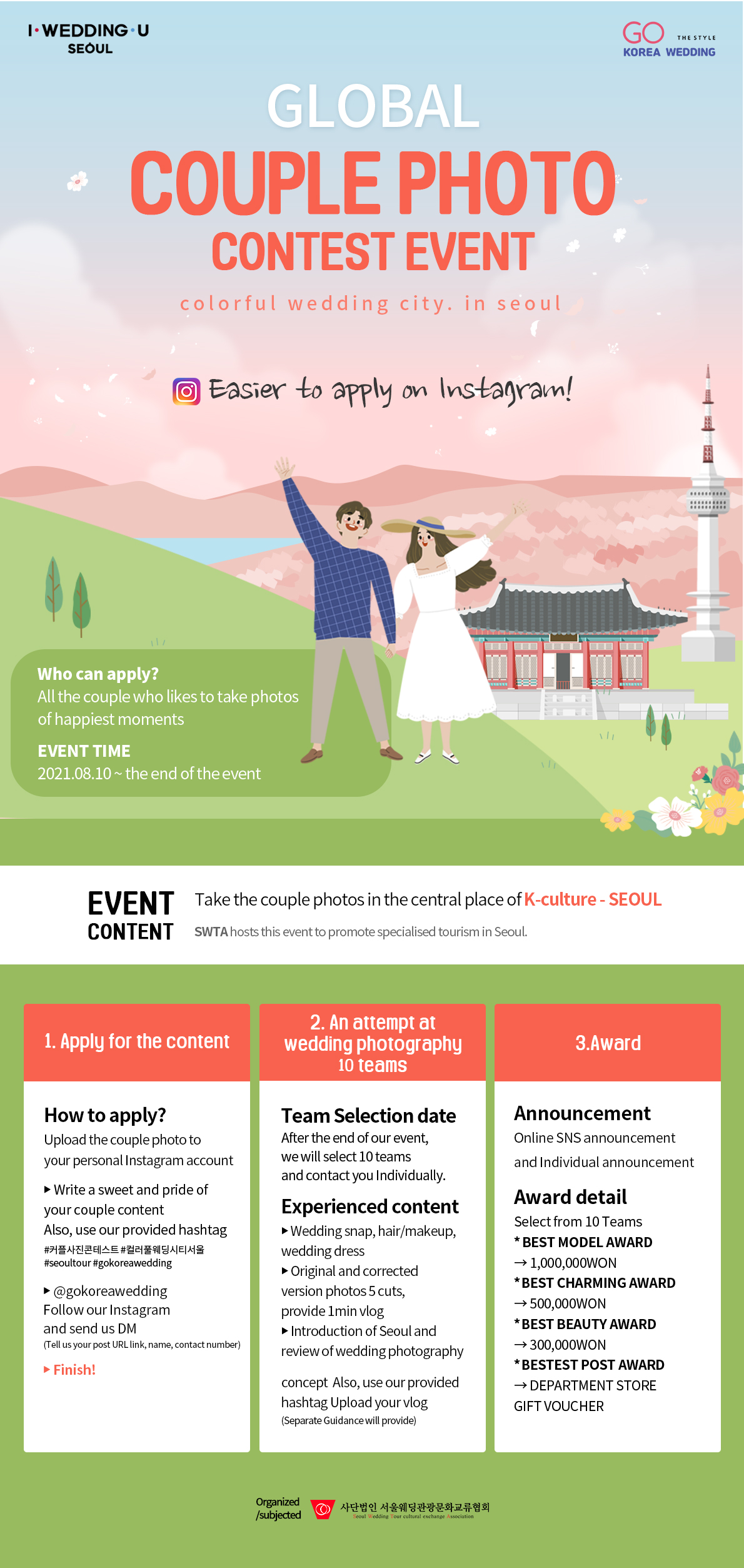 ✨GLOBAL COUPLE PHOTO CONTEST EVENT👇🏻
(Colourful wedding city in Seoul)
♥Who can apply?
All the couple who likes to take photos of happiest moments
🌿EVENT TIME
2021.08.10~the end of the event
🌻How to apply?
Upload the couple photo to your personal Instagram account
Write a sweet and pride of your couple content
Also, use our provided hashtag
#커플사진콘테스트 #컬러풀웨딩시티서울
#seoultour #gokoreawedding
Follow our Instagram and send us DM
(Tell us your post URL link, name, contact number)
📸wedding photography
Team Selection date
After the end of our event, we will select 10 teams and contact you Individually.
Experienced content
Wedding snap, hair/makeup, wedding dress
Original and corrected version photos 5 cuts, provide 1min vlog
Introduction of Seoul and review of wedding photography concept
Also, use our provided hashtag
Upload your vlog (Separate Guidance will provide)
🔥Award
Announcement
Online SNS announcement and Individual announcement
Award detail
Select from 10 Teams
⭐BEST MODEL AWARD: 1,000,000WON
⭐BEST CHARMING AWARD: 500,000WON
⭐BEST BEAUTY AWARD: 300,000WON
⭐BESTEST POST AWARD: DEPARTMENT STORE GIFT VOUCHER
Take the couple photos in the central place of K-culture – SEOUL
We are waiting your excellent photo to join our event!
✨Inquiry
Phone: 070-8672-1762
E-mail: kowed03@swta.kr